We all want the best home security, so how does a Ultion lock provide this?
So, what are the advantages of a Ultion lock?
1. Lock Down Mode
One of the most popular features of a Ultion lock is their ability to enter 'lockdown mode' when your door is tampered with. If someone tries to bypass your lock or force your door open, a Ultion lock has a hidden lock inside of the mechanism that immediately prevents the door from opening. The secret lock is hidden deep inside of a solid molybdenum core and is held in place by a dedicated retaining pin, preventing access for non-key holders.
Unlike standard door locks, which can be easily picked and broken, Ultion locks will detect an attack quickly and secure the entire system so it cannot be broken. If you want the guaranteed safety of your home, a Ultion lock has more than one way of ensuring this and lockdown mode is one of them.
2. Super strength
Unlike the standard locks you'd find for your front door, with the newly improved Ultion lock, you can guarantee a strong and reliable lock. The mechanism is made from molybdenum (Mo), an element found in the strongest of superalloys. This material is in the top six for the highest melting point of an alloy, impressively the Ultion lock can also withstand pressures of up to 30,000 pounds per square inch.
The same alloy you find in a Ultion lock is found in military aircraft, which more than justifies its impressive desirability. If a Ultion lock is anything, it's secure, meaning that you can expect the best safety for your family and your property.
3. Easy to operate
You would think that such an advanced lock would be hard to understand and difficult to use correctly, however that is not the case. Ultion locks operate just like any other lock, all you need is the correct key and entry is effortless. If you're inside and lockdown mode is activated, this is not a problem either; a Ultion lock will allow you to operate your lock from the inside.
A Ultion lock is designed around customer ergonomics and safety; therefore you can still expect complete control of your security. A Ultion lock works under a key that fits the mechanism and as long as you have your key, your lock will be accessible for you, even if it has prevented intruders from entering your home.
4. No test has yet been failed
Our Ultion locks have undergone all major BS (British Standards) test for security and passed every time. The board for British Standards found no flaws with the defence mechanism and decide to rate the model a 3 star, as it met the highest TS007 standard.
The Ultion locks received excellent reviews after it was found that the lock worked effectively without the need of support from cylinder protectors or secure door handles. Locksmiths designed all the tests, so all elements of a lock were considered during the examination and Ultion locks exceeded all of the expectations.
5. 11-pin cylinder
The more secure locks that you would have heard of consist of 5 or maybe 6 pins, however, a Ultion lock has 11. With 11-pins comes 11 different numbers to form a pin with, and with around 294,970 different combinations you can guarantee a secure door.
Your key is assigned to this lock as it correctly manoeuvres all 11 pins within the mechanism, however, when the lock is attacked with attempted entry, lockdown mode will activate and cut off access from the outside.
6. Protection from lock-drilling
Drilling into your door lock is a common way for trespassers to gain entry that is why Ultion lock has taken this event into consideration. The cylinder has been designed with anti-drill pins, the metal barriers prevents a drill from breaking through the lock, therefore deterring the attacker.
7. Protection from lock bumping
Lock bumping is a strategic manoeuvre people use to bypass the lock by lifting the pins in correlation. However, with a Ultion lock, an anti-bump pin protects your lock from being accessed, instead of when it detects an attack the lock will enter lockdown mode and entry will be impossible for the attacker.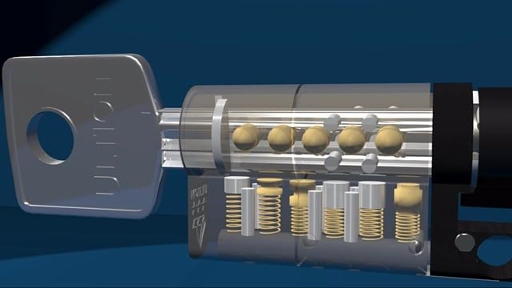 7 Reasons Why You Should Upgrade Your Front Door Lock to a Ultion Lock
Ultion locks are the 'king of locks'; this is because no other door lock can come close to it. With improved technology and advancements in lock engineering, locksmiths have developed the most reliable type of lock for domestic and commercial use.
If you think your locks are safe, you will be surprised at how unreliable they really are in comparison to our 11-pin cylinder Ultion locks. These new locks have been designed to provide optimum security to homes and businesses, deterring crime and increasing the safety of your home. Ultion locks have been manufactured with people's security in mind that is why the manufacturers have considered all aspects of the lock's design and came up with an effective result.
​