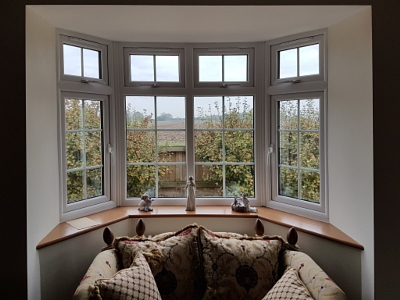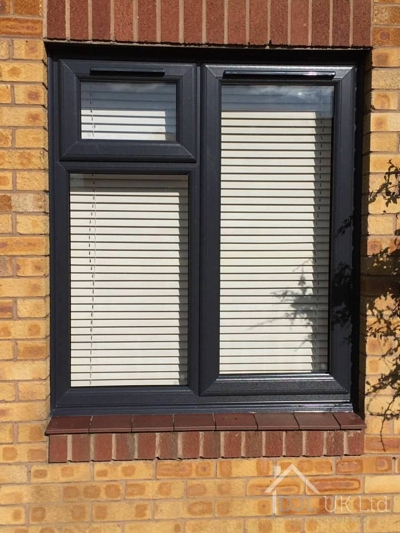 PVCu Windows
They're practical, they're simple and they follow a modern style, making any home look new and improved. PVCu is renowned for its affordability and excellent quality that remains even when exposed to harsh weather. PVCu is the most popular option for windows as they're suited for the UK weather and remain untouched through constant wear and tear. The newest of PVCu windows also offer the best energy efficiency, keeping your home warm during the colder months without letting any heat escape. PVCu windows are available with either double or triple glazing, ensuring maximum insulation, however, they also allow for a cool room during the summer months.
So, maybe you're interested in new PVCu windows, but have you decided on a style yet? There are 6 main styles of PVCu windows and we can happily say we provide and install them all. Let's take a look and see what window model takes your fancy…
Casement Windows
Casement windows are your small and practical options for windows; they consist of two symmetrical windows, which open up outwards both together or separately. These windows are suitable for smaller homes and allow for controlled natural lighting.
Bay and Bow Window
They're large, they're eye-catching and they make your home look bigger than it is. If you want to add to the impression of space in your home and allow in more natural sunlight, then these windows are for you.
French Windows
These windows offer an elegant style and are found in many modern homes. They have a classic style that makes them highly desirable for homes, they are available in a range of aesthetics.
Tilt and Turn Windows
This style is designed for providing the best ventilation function, tilt and turn windows can open in almost any direction depending on the style you choose, with some opening inwards and others opening from the top.
Run-Thru Sash Horns
Our Run-Thru Sash Horns are designed to represent a heritage style and allow for excellent natural lighting within a room. The vertical design makes them create the illusion f more space both inside out outside of your home.
Vertical Sliding Windows
Stylish and practical, sliding windows are great for ventilation purposes and allow you to let as much natural lighting in as you need. Ideal for modern homes, vertical sliding windows are starting to become and more popular.
Are you a lover of real wood? Try Alternative to Timber Windows
Investing in authentic wood windows is not a good move, wood is prone to early deterioration and your windows face harsh weather quite often. So, unless you're prepared to have your windows replaced every so often, we would consider trying an alternative to timber windows. These windows are made to look like real wood, however, they're not real wood at all. The finishes are high in quality and reflect the appearance of natural wood, but the best part is these windows never rot or fade. Alternative to timber windows are available in so many different colours, so you can really bring your home to life.
You can get aluminium windows?
Surprisingly, there is such thing as aluminium windows for your home. Although most people are custom to the PVCu models, some people may already know about aluminium windows, but we will describe them to you to give you further insight.
Aluminium windows are durable, modern and practical. If you want to give your home a contemporary look, then there's no better suggestion other than 'aluminium windows. With windows that remain untouched even when exposed to harsh weather, there's no better investment, aesthetically, for your home.
We ensure all our aluminium windows are manufactured high in quality, each window either comes with double or triple glazing ensuring the best energy efficiency all year round, you definitely will never be disappointed by aluminium windows.
Do you now know what type of window you would like?
Whether you are after windows that make your home look better, keep your energy bills lower or meet your ideal style – we can help you find the perfect installation.
Windows are just as important as any other home improvement - they complete our homes. So, will it be your typical, energy efficient PVCu windows? Or maybe it will be the prestigious aluminium windows? There are styles out there for everyone and with modern day window technology, you can be sure to expect only the best.
This model of a window is becoming increasingly popular across the UK with both new and older homes having alternative to timber windows installed to portray that natural, authentic vibe. These windows are also great for older homes; this is because they have a vintage style which is an advantage to many dated homes which would rather keep and older look on their home.
We actively recommend our alternative to timber, flush sash windows if you want to invest in something both aesthetically effective and functionally beneficial. Although they look almost like the real thing, the PVCu behind the look acts as an effective insulator, keeping your home warm and draughts out.
What Different Types of Windows Can You Buy For Your Home?
Curious to know what windows are out there? Read our blog to see the most popular and modern window models to date that we provide here at DJL UK.
Windows aren't the most thought of home improvement to consider, but they're more than important for making our home's sustainable. When we look at our windows, we just assume the ones we were given do their job and that there's no need to change them, but that isn't always the case.
Windows have many purposes, although they primarily allow natural sunlight to reach the inside of your home, they also maintain internal temperatures. A window offers ventilation, allowing a breeze in during the summer and excluding draughts during the colder months. But, despite their many functions, windows can also provide aesthetic value; they are available in many shapes, sizes and finishes to help homeowners achieve their ideal style.
The question is, however, what kind of windows are there? So, most of us understand that there's a PVCu option, but that cant be all there is? Luckily, there are actually plenty of different window finishes and colours so you can enjoy window-shopping, literally!
​