Are you someone who can't use your conservatory all year round? Well, we can stop that!​
Did you know a warm roof could be the solution to your cold conservatory problems?
We understand that a conservatory is a valuable home improvement feature. Your property is gaining more space and is one step closer to creating your dream home. However, more often than not, we find customer complaining about how their orangery or extension can only be used in the summer! As a result of heat easily escape due to a lack of insulating materials, warm temperatures cannot be trapped inside. Therefore, in winter months, your conservatory space becomes cold quickly and ultimately not used.
But we have a solution! Warm roof installations are an innovative home improvement that can make any conservatory energy efficient. Therefore, your home can have a warm and comfortable environment all year round — the perfect solution to a common problem.
So, what exactly is a warm roof installation?
Essentially, a warm roof is a big coat for your conservatory. A warm roof simply keeps your extension warm. As opposed to installing insulation between rafters like a traditional cold roof, a warm roof is installed on top of an existing surface. Therefore, this ensures the whole roof surface is insulated and energy-efficient.
There are multiple styles and models available so you can ensure you warm roof matches your home's style effortlessly. One of the models we install is the basic warm roof. Overall, this is a solid covering to trap heat. But, there is also the option of investing in a LivinRoof. This combines the advantages of both the solid roof with the effect of skylights to keep light flooding in. But the best part, the roof will still be maintaining internal temperatures. With either warm roof, you and your family can be assured that your conservatory will no longer be a cold area but instead a warm, relaxing room perfect throughout the colder months.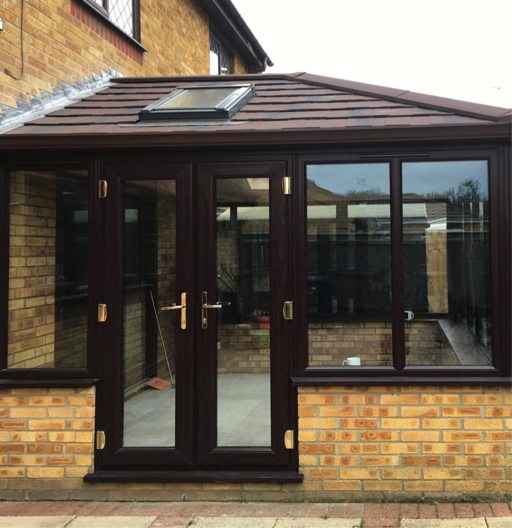 What makes up a warm roof?
Now for the more technical bit.
A warm roof construction consists of many complex layers. The base is made up of a general concrete ceiling, so the roof looks contemporary internally and externally. Above this, there is a reinforced roof decking combined with structural joints, which hold up a vapour control layer – this manages your roof's condensation preventing damp developing.
Next, this material is then overlapped by thermal insulation – this provides the best energy-conservation between the elements. Finally, the overlay board and reinforced EPDM membrane are installed, which preserve the exposed surface of the roof.
So, in brief, in the construction of a warm roof, the insulation layer is placed above the structural decking, resulting in the structural deck and other supports being at the same temperature to that of the building interior.
Although this may all sound very complex, it is clear that overall a considerable amount of materials and structure go into the formation of a warm roof – which is why you can be guaranteed the most effective heat management.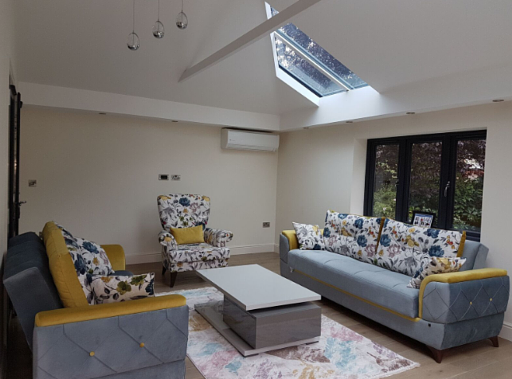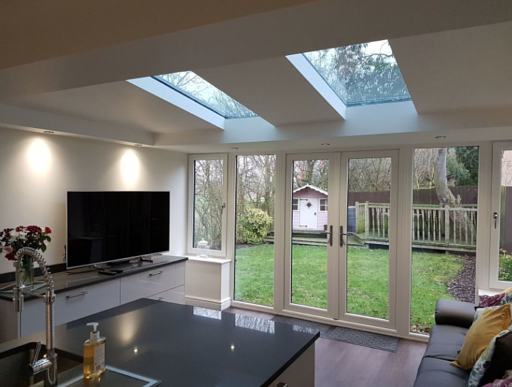 How could a warm roof benefit your home?
Warm roofs have been specially designed and created with precision to ensure they achieve a range of advantages. But what exactly are these?
The most significant benefit is a reduction in your energy bills. No longer will you feel the need to turn your dial-up, as your extension will maintain temperatures all year round which is perfect for UK climates. You will have a cold ventilated room during the summer months and warm room during the winter. Therefore, providing you with the ideal place to kick back and unwind after long days.
In addition to being efficient, warm roofs are aesthetically pleasing. They are a stylish asset, will are quickly and easily installed. Due to the stunning structured layout of tiles and panelling, the warm roofs are easy on the eye. Not only do the beautiful structures come as a bonus, adding a warm roof to your conservatory increases the value of your property due to its interest with buyers. Potential homebuyers often look for a conservatory or extension as added space, but what makes it more valuable is the fact it has been installed with a warm roof and be used all year round – what could be better than that?
Also, warm roofs are fully customisable. Each roof can be tailored to suit your style to match your existing home and lifestyle. Whether that is befitting your roof with mood lighting or even speakers, you warm roof can take your social gatherings to a whole new level of enjoyment, with your surroundings remaining stylish for your visitors to admire. This is why warm roof installation is becoming an increasingly popular option due to the freedom it brings customers.
Regarding appearance, warms roofs exceed other roofing options, the quality of LivinRoofs add a sense of class and elegance due to the element of light. With high ceilings, an installation can provide a spacious feel, and the plasterboard finish makes it feel like it was always part of your home. Installing a warm roof is beneficial in both the immediate and long run.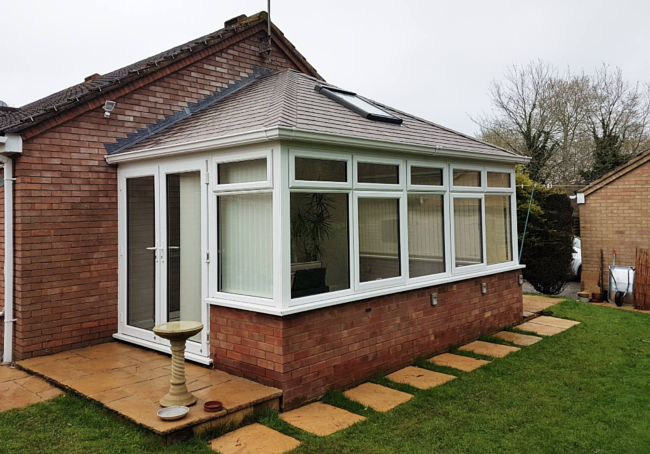 Invest in a warm roof extension for your conservatory with
DJL UK
So is a warm roof a worthwhile investment? Of course! The thermal efficiency of the roof's double-glazing and the multiple layers means the roof conserves heat, which ultimately reduces your energy bills. Whatever the weather outside, temperatures are maintained within the conservatory.
There is something for everyone, especially now with the newly engineered UltraRoof380. This bespoke roof offers homeowners the same benefits as the standard warm roof, but with this type of roof, there is a difference. This model is perfect for those who would like a living space to use all year round yet still want to retain the effect of natural light. The construction of this model involves the same process as solid roofing but with the combination of double-glazed windows – creating a beautiful, unique roof that is visually pleasing and energy-efficient. An UltraRoof380 comprises of multiple full-length panels or roof windows incorporated into a plastered ceiling, resulting in an ascetically pleasing installation inside and out. The UltraRoof380 is the latest in warm roof design, with authentic tiled roof and A-rated glass – you and your family can make the most of your conservatory or extension.