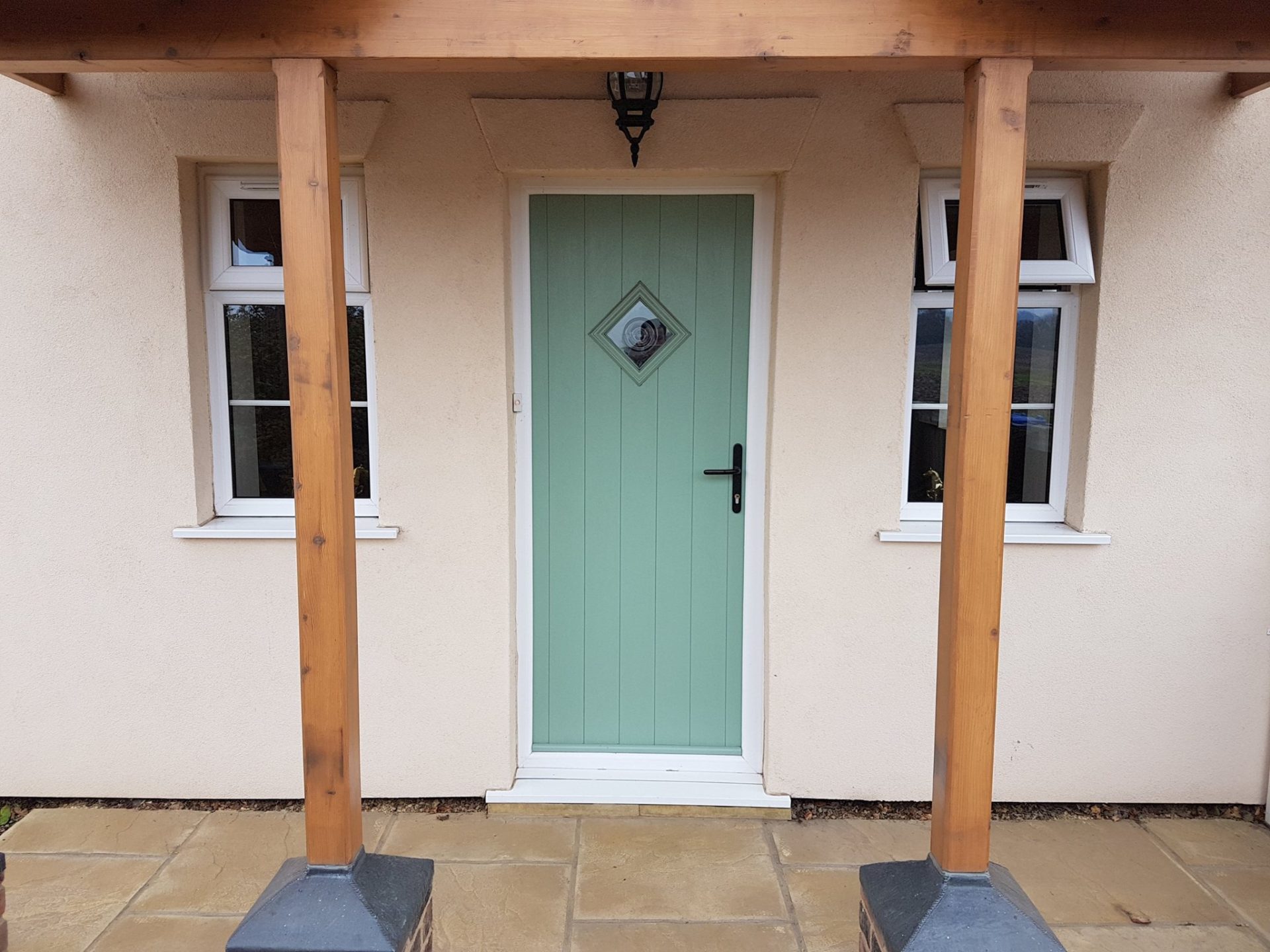 What is the difference between a uPVC and a composite door?
Looking for a new door? Stuck between a uPVC and Composite door? We know choosing your front door can be a difficult decision. With there being SO many choices – from style, colour, material and accessories – you may be a little confused.
However, we thought we would end this confusion and put the record straight. We will be providing you with a non-biased, honest comparison of the two most popular door we sell!
Your door is an essential feature of your home. It is the first thing your guest sees before they enter your home. Therefore it should WOW and leave neighbours in awe. However, even though aesthetics play a significant, but your door should be highly durable and secure. Luckily for you, both our uPVC and composite doors can offer all of this! However, there's still the question of which one…
So, before we leave you more confused, we will break down each door, discussing the differences and advantages. All so we can make it easier for you to choose the most suitable door for your home!
You may have heard us banging on about uPVC door and composite doors, but what actually is the difference between them? Let us tell you.
Do you know what PVC actually stands for? Well, it stands for polyvinyl chloride – we are specialists for a reason ;). This is a chemical compound derived from chlorine, hydrogen and carbon! The 'u' stands for un-plasticised which means that chemicals know which could soften the material have no been added. Now that's the science bit out of the way; now we can move onto the benefits!
uPVC or PVCu doors are considered a modern alternative to wooden doors. They are much cheaper and offer increased longevity compared to wooden options. Even though wooden doors are considered much more luxurious, wooden doors often become victim weather damage and cost a lot more to be replaced. Due to being more affordable, uPVC doors are becoming an increasingly popular door choice – and we can see why!
There are numerous benefits to investing in a uPVC frame. They are easy to maintain, look stunning, but most importantly, they offer extremely good thermally efficiency. Old doors account for around 20% of heat loss in a household and allow for cold, uncomfortable draughts to enter. As a result, people often turn up the heating to combat these draughts, but money is being wasted through the inefficient frame. However, uPVC doors are built to fit tight; therefore, no heat can escape, and not draughts can enter! Due to a uPVC door's insulating properties, you and your family can remain cosy in the winter.
Due to their high levels of insulation, PVCu doors are also soundproof! Noise will no longer be a problem for you!  You will be guaranteed a better nights sleep with a PVCu.
Furthermore, PVCu doors are weather resistant. These doors do not rot or decompose when exposed to moisture – which is useful, especially in British weather! Ultimately, this door requires less maintenance, only a wipe down now and then is needed.
However, there are some drawbacks. Strength is a significant problem for uPVC. Compared to composite doors, PVCu is prone to sagging and sashing due to their lightweight frame. Also, even though there are multiple styles and colour options, they are less customisable than composites.
Additionally, depending on your style of home, a PVCu door may not fit. For example, a traditionally styled property would benefit from a composite door as they offer more colour and finish options.
Overall, PVCu doors are durable and will never lose their shape. Being highly resilient and long-lasting, it is doubtful that you will need to replace your door again (a bonus for your wallet). uPVC doors are significantly less expensive than many other doors, low maintenance and durable. So, if you're looking for an affordable entry that increases your home's energy efficiency, aesthetics and security – the PVCu door is for you!
The strong, the durable, the bold – it is the door that is named the composite. Made from a combination of durable material that has been selected for their beneficial purposes, this door is trendy among customers. Stable, sturdy, highly secure and thermally efficient, the composite door is a compelling choice.
This rigid entry will relieve you and your family's fear of burglaries, allowing you to sleep without worry! Made of robust and sturdy materials, as well as featuring highly advanced locking systems, composites doors are highly secure.
Similarly to uPVC, composite doors offer incredible thermal efficiency. No more losing heat and therefore no more losing money – a win, win if you ask us!
As opposed to PVCu, composite doors are available in a broader range of different colours and surfaces to suit all homes. Your sturdy, insulated door will be an asset to any house that you live in, whether it is traditional or contemporary.
Finally, another significant benefit of composites is their weather resistance. Regardless of the conditions, this door will maintain its shape. In extreme temperatures, rain, snow or wind, your composite door will not warp, dent or bow!
The benefits a composite door will bring to your home are endless! However, as a result of the quality, such door is expensive. But, as a maintenance-free and energy-efficient frame, the immediate cost will save you money in the long run!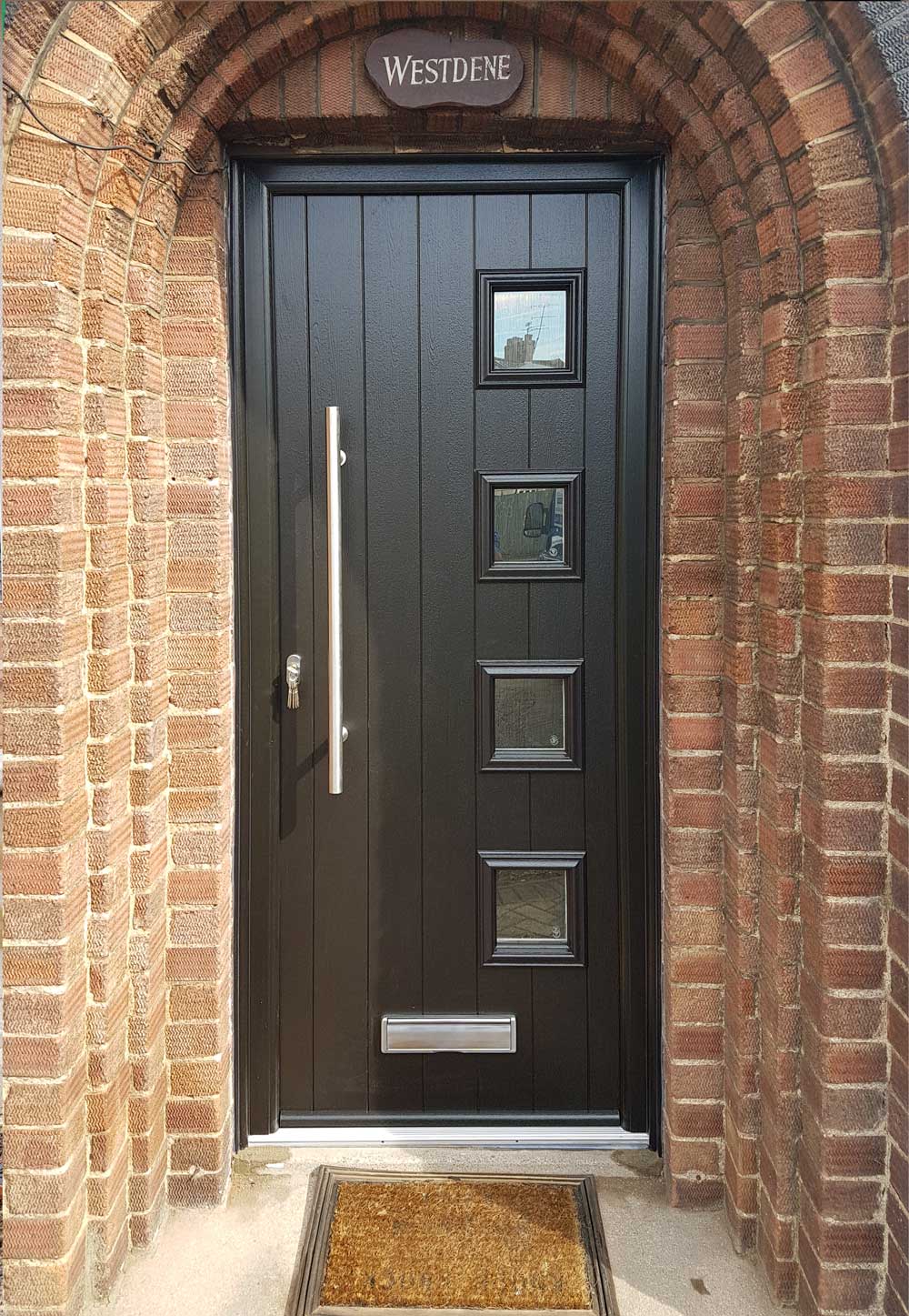 So, what door should I choose for my home?
So the decision is yours! You know everything there is to know about uPVC doors and their arch-rival Composites, but the final decision is up to you! Consider the factor which is most valuable to you and your home. Is security important in your home? Do you like having a choice in colour and style?
Here at DJL UK we supply and install a wide range of doors, so why not contact us or visit our showroom to discover the perfect entranceway for your home?
We can also provide you with a competitive price as well as numerous finance options to help you find the perfect uPVC and composite door. So, get in touch!
Get In Touch With DJL UK